Home > Lighting > Light control Accessories > Skylite Rapid - Kits and accessories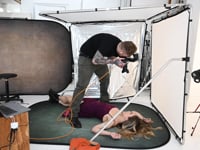 Availability: Delivered by order
Usualy ships within 15 days
Free delivery to Econt office
for orders over 100 BGN
Lastolite Skylite Rapid Standard Small Kit 1.1 x 1.1m
Availability notification

Please fill your E-mail address where you want to receive the availability notification for Lastolite Skylite Rapid Standard Small Kit 1.1 x 1.1m or your contact phone number.
Skylite Rapid Small Kit 1.1 x 1.1m includes:
• Skylight Rapid Frame Small 1.1m x 1.1m (3'6" x 3'6")(LL LR811)
• Silver/White reflector (LL LR81131R)
•1.25 Stops Diffuser (LL LR81107R)
• Skylight Rapid Rigid Case (LL LRCASE1025)

The Skylite Rapid system

The rectangluar SMALL panel is a very versatile size, easily mounted onto a single light stand (using the optional Skylite Rapid Griphead LL LA8446) or light enough to be hand held. It is available in kit form or as individual components allowing you to build your own configurations. The covers available for the MEDIUM frame include: 0.75 stop diffuser, 1.25 stop diffuser, silver/white, black/white, sunfire/white and black velvet.

The Skylite panels are the go to solution for location imagemakers who need to diffuse or reflect their light source in the most demanding situations. The lightweight, rapid assembly aluminium rigid frame offers ultimate stability even in windy conditions, whilst the clip on covers offer a complete range of diffusion and reflective surfaces. Each framework collapses down into a neat, compact and very portable rigid carry case. An elastic cord runs through the aluminium making it impossible to lose parts or leave anything behind.
| | |
| --- | --- |
| Weight | 3200 g |
| Height | 100 cm |
| Stops of light loss | -1.25f |
| Open Size | Small |
| Protective Case | Yes |
| Shape | Square |
| Weight | 2.8 kg |
| Width | 100 cm |
Frame, Silver/White screen, Diffuser 1.25 stops, bag
Package weight: 2.81 kg