Home > Cameras > Drones > Quadcopter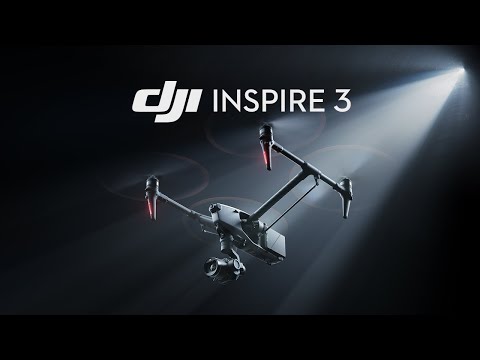 Availability: Delivered by order
Usualy ships within 25 days
Free delivery to Econt office
for orders over 100 BGN
DJI Inspire 3
Availability notification

Please fill your E-mail address where you want to receive the availability notification for DJI Inspire 3 or your contact phone number.
Key Features
X9-8K Air Full-Frame 3-Axis Gimbal
8K25 CinemaDNG or 8K75 Apple ProRES
CineCore 3.0 Image Processing
Centimeter-Level RTK Positioning
1/1.8" FVP Camera with 161° DFOV
Spotlight Pro Subject Tracking
Omnidirectional Obstacle Avoidance
Up to 9.3-Mile Control via O3 Pro
Up to 58.4 mph Flight Speed
RC Plus Remote with 7" 1200-nit Display
Overview
Improving upon many aspects of the Inspire 2, the DJI Inspire 3 keeps up with the advancements and needs of film and television producers, allowing filmmakers to capture creative and stunning results. It begins with the X9-8K Air, an 8K, full-frame, 3-axis, gimbal camera custom-built for the Inspire 3. It joins a new 1/1.8" FPV camera with double the DFOV of the Inspire 2. Together, they help capture professional footage and complex shots thanks to a customizable obstacle avoidance system, built-in centimeter-level RTK accuracy, and tracking solutions that allow accurate and repeatable shots.
8K X9-8K Air Gimbal
The heart of the Inspire 3 is the custom-built X9-8K Air gimbal that uses CineCore 3.0, DJI's latest image processing system to internally record up to 8K25 CinemaDNG video or 8K75 Apple ProRes RAW video, both meeting the needs of professional film and television productions. The footage retains a lifelike texture that's close to what the human eye can see, allowing for enough space for adding visual effects and color grading. Complex lighting sources are supported with 14+ stops of dynamic range and the use of the DJI cinema Color System authenticity in recording everything from urban landscapes to a variety of skin tones. Additional features include:
8K75 Apple ProRes RAW video
S&Q Mode: Up to full-frame 4K120 ProRes RAW without cropping
Dual Native ISO at full-frame 30 fps and below
EI 800/4000 at 24 fps for film production
EI 320/1600 above 30 fps for commercial and TV production
14+ stops of dynamic range for capturing rich highlights and shadow in complex lighting scenarios and allowing for more possibilities during editing
DJI Cinema Color System (DCCS): An improved DCCS retains authentic colors across natural and urban settings and skin tones in various lighting, and it helps make color matching the X9-8K Air with ground-based cameras easier to achieve.
FPV Camera
Doubling the DFOV of the Inspire 2 to 161°, the new 1/1.8" FPV camera lets pilots take in an ultra-wide first-person view of what the drone sees in flight. The camera supports the transmission of live feeds at 1080p60 and provides a large 3 μm pixel size. The larger pixels offer better light-sensing for improved night vision and safer low-light FPV flying.
Centimeter-Level RTK Positioning
With RTK antennas built into the Inspire 3's airframe, pilots can take advantage of centimeter-level accuracy normally utilized in architecture and surveying to use DJI Waypoint Pro to confidently fly complex routes over and over. The RTK antennas work in conjunction with three types of GNSS (GPS, BeiDou, and Galileo) and dual-frequency positioning. Pilots can choose to activate an RTK Network, using the internet connection of the RC Plus to connect to an NTRIP server or set up an optional D-RTK 2 Mobile Station without needing to install additional modules.
Waypoint Pro
This feature encompasses a wide range of settings, including Repeatable Routes and 3D Dolly, allowing filmmakers to take advantage of RTK positioning to more easily replicate and capture highly-complex scenes.
Repeatable Routes: Have the Inspire 2 automatically fly the same route over and over while keeping all preset parameters, such as altitude, speed, gimbal angle, and camera settings. This helps perform difficult one-take shots and fly identical routes at different times of the day for transition shots.
3D Dolly: Simulate a crane, cable cam, or dolly shot with the added flexibility that aerial cinematography can provide. You can plan the dolly route and then move the Inspire 3 drone back and forth along it while adjusting speed, gimbal angle, and other parameters as needed.
Spotlight Pro
With improved machine-learning algorithms, the Inspire 3 can use Spotlight Pro to automate subject recognition and locking for both people and vehicles with increased accuracy. Choose from Follow or Free modes to capture the scene.
Follow Mode: In this mode, the drone and gimbal lock onto a subject and orient toward it in the same direction, allowing for easier circling shots
Free Mode: Taking advantage of the gimbal's 360° pan ability, the gimbal can stay locked onto a subject while the pilot uses the FPV camera to check the surroundings and control the flight route.
Omnidirectional Obstacle Avoidance
To help keep the Inspire 3 and bystanders safe during filming, DJI incorporates nine visual sensors to detect obstacles in all directions. This includes 360° horizontal, upward, and downward coverage, in addition to a depth-sensing downward ToF sensor. A fisheye camera is attached to each of the four landing arms. When they are raised, obstruction from the airframe can be avoided, and when lowered, you gain horizontal obstacle sensing.
A new feature offered by the Inspire 3 is the ability to customize obstacle avoidance. So, filmmakers can enable or disable horizontal, upward, or downward sensing independently. This allows pilots to fly closer to objects, performing complex and creative maneuvers without automated avoidance ruining the shot. You still get the ability to manually set a range, where the Inspire 3 will give you an audible alert sound if you get too close, and you'll always be able to see an object's distances on the controller's display.
O3 Pro
O3 Pro is a generational leap in distance, video latency, and stability compared to the Inspire 2. Using the DJI O3 Pro video transmission and control system, pilots of the Inspire 3 can enjoy a maximum control distance of 15 km in single-control mode or up to 12 km in dual-control mode. Both the 8K gimbal and FPV can provide live feeds of 1080p90 at a low 90 ms latency, and for the first time, filmmakers can have live feeds at 4K30 or 1080p60 at up to 5 km.
DJI RC Plus
In addition to classic piloting controls with integrated buttons and dials, the RC Plus's 7" display works with the DJI Pilot 2 app to add a live video feed and telemetry, such as camera exposure, video specs, focal length, and gimbal angle. The display provides 1200 nits of brightness, making it suitable for outdoor viewing.
To share the live video feed with others on set, you can use the built-in HDMI output to connect the controller to an optional monitor. It can run for up to 3.3 hours per battery charge and supports hot swapping to extend battery life. If you do fly for long periods, the included strap and waist support help to make piloting more comfortable.
Dual Control with Independent Links
Unlike Inspire 2, primary and secondary control links are not bound. This means that two remotes can operate independently, giving each operator live feeds and the ability to be at different physical positions. Also, if the pilot loses the signal, the gimbal operator can take over to land the drone safely. Please note that a second remote is optional and not included.
Expandable DJI PRO Ecosystem
Even with the DJI Inspire 3's impressive cinematic capabilities, pilots and gimbal operators can expand the drone's performance even more with optional DL Mount lenses and DJI PRO Ecosystem accessories and features.
DJI High-Bright Remote Monitor can be used as a second controller to receive live feeds or control the gimbal and focus
DJI Three-Channel Follow Focus uses the O3 Pro system with the High-Bright Remote Monitor to transmit control signals to the Inspire 3. This allows the focus puller to accurately achieve remote focus and stepless aperture adjustments
DJI Master Wheels works with a High-Bright Remote Monitor to allow for gimbal control
DJI Transmission supports unlimited remote monitors with the connection of the RC Plus to a DJI Video Transmitter with Broadcast mode
TB51 Dual-Battery System
Six TB51 batteries are included with a charging hub to maximize flight time. Each pair of the small and lightweight TB51 batteries delivers 28 minutes of flight time and supports hot swapping to get fresh batteries into the Inspire 3, reducing downtime. The intelligent flight batteries also offer an automatic heating function to maintain flight performance under 64°F. Use the included folding charging hub to make sure all batteries are ready to go. It can accommodate up to eight batteries, charging two to 90% in just 35 minutes in Fast Mode, and all eight to 100% in just 160 minutes.
1TB PROSSD
Capture footage on the included 1TB PROSSD drive and easily offload it to a PC with just the included USB-C data cable. Preview your footage fast, thanks to a maximum read speed of 900 Mb/s.
Trolly Case
Get the Inspire 3 and accessories safely to the set with the included trolly case. An extendable handle, two side handles, and four 360° wheels make transportation easy. Two numbered locks are included to safely secure the case's contents. The case is designed to hold the following:
Inspire 3
X9-8K gimbal camera
Two RC Plus remotes (one included)
Four (optional) lenses
12 flight batteries (six included)
Two battery charging hubs (one included)
Three sets of propellers and more
Specs
Maximum Takeoff Weight: 4310 g
Maximum Horizontal Speed: 94 km/h
Maximum Ascent Speed 17.9 mph / 8 m/s
Maximum Descent Speed: 10 m/s
Maximum Wind Resistance: 14 m/s
Maximum Flight Time: 28 Minutes
Maximum Hover Time: 25 Minutes
Maximum Tilt Angle: 55°
Hovering Accuracy: RTK
Horizontal: ±0.3' / 0.1 m; Vertical: ±0.3' / 0.1 m;
GNSS: Horizontal: ±1.6' / 0.5 m; Vertical: ±1.6' / 0.5 m;
Vision Positioning: Horizontal: ±1.0' / 0.3 m; Vertical: ±0.3' / 0.1 m;
Maximum Angular Velocity: 200°/s (Pitch); 150°/s (Yaw); 200°/s (Roll);
Camera
Sensor Type: CMOS Sensor
ISO Sensitivity: Photo - 100 to 25,600; Video - 200 to 6400;
Shutter Speed: Electronic Shutter - 1/8000 to 8 Seconds
Video Format: 8192 x 5456p (MOV)
Still Image Support: DNG / JPEG (8192 x 5456)
Media/Memory Card Slot Dual Slot: DJI ProSSD via Separate Module [1 TB Maximum]
Second Camera
Camera Type: FPV
Resolution: 1920 x 1080 @ 60 fps
FOV: 161°
Gimbal
Number of Axes: 3-Axis (Pitch (Tilt), Roll, Yaw (Pan))
Rotation Range
Mechanical Range: Pitch (Tilt): -148 to 110° ; Roll: -90 to 230° ; Yaw (Pan): -330 to 330°;
Controllable Range: Pitch (Tilt): -140 to 100° ;Roll: -20 to 20°; Yaw (Pan): -300 to 300°;
Flight Control System
GNSS Support: GPS, BeiDou, Galileo
Vision/Sensing System
Vision System: Downward / Upward / Forward / Backward / Left / Right
Vision System Capabilities
Forward
Measurement Range: 1.5 to 48 m
Max Speed: 15 m/s
Field of View: 103° (Vertical) / 90° (Horizontal)
Backward
Measurement Range: 1.5 to 48 m
Max Speed: 15 m/s
Field of View: 90° (Horizontal) / 103° (Vertical)
Lateral
Measurement Range: 1.5 to 42 m
Max Speed: 15 m/s
Field of View: 90° (Horizontal) / 85° (Vertical)
Upward
Measurement Range: 0.2 to 13 m
Max Speed: 13.4 mph / 6 m/s
Field of View: 100° (Vertical) / 90° (Horizontal)
Downward
Measurement Range:0.3 to 18 m
Max Speed: 6 m/s
Field of View: 130° (Vertical) / 160° (Horizontal)
Operating Environment: Surface with Clear Patterns at >15 lux
Remote Controller / Transmitter
Operating Frequency: 2.4 GHz (2.400 to 2.4835); 5.8 GHz (5.725 to 5.850);
Transmitter Power: 26 dBm (2.4/5.8 G)
Transmitter I/O: 1 x HDMI Output
Power Consumption:12.5 W
Battery Capacity: 3250 mAh
Mobile App Compatible: Yes
*As of April, 2023: Check with manufacturer for the most up-to-date compatibility
Built-In Display Size / Type 7" / LCD
Display Brightness: 1200 nits / cd/m2
Storage Temperature: -30 to 45°C
Operating Temperature: -20 to 50°C
Flight Battery
Model: TB51
Battery Chemistry: Lithium-Ion
Battery Capacity: 4280 mAh / 98.8 Wh
Operating Temperature: -20 to 40°C
Charging Temperature:-20 to 40°C
Weight: 470 g
Charger
AC Input Power: 100 to 240 VAC, 50 / 60 Hz at 8 A
Output Voltage: 26.4 V, 7.8 A
Power Rating: 476 W
General
Rotor Configuration: 4
Operating Temperature: -20 to 40°C
Diagonal Size: 695 mm
Overall Dimensions: 709.8 x 176.0 x 500.5 mm
Weight: 3995 g (Including Propellers, Battery, Gimbal, Camera)
| | |
| --- | --- |
| Camera Mount Type | 3 Axis Gimbal |
| Control Range (Up To) | 12 000m |
| Operating Time (Up To) | 30 min. |
| Sensor size | Full Frame |
| Video resolution | 8K |
| Warranty | 24 months |
| Warranty terms | Legal entity - warranty 12 months |
DJI Inspire 3
RC Plus
6 x TB51 Intelligent Battery
TB51 Intelligent Battery Charging Hub
7 x TB51 Intelligent Battery Charging Hub AC Cable
TB51 Intelligent Battery Paired Batteries Sticker
3 x Pair of Foldable Quick Release Propellers
2 x Gimbal Rubber Damper
PROSSD 1TB
Trolly Case
USB-C High-Speed Data Cable
USB-C to USB-A Data Cable
RC Plus Strap
RC Plus Waist Support
Zenmuse X9-8K Air Gimbal Camera
Zenmuse X9-8K Air Gimbal Camera Case
DL Mount Lens Cap
X9 Gimbal Base Cap
Lens Carrying Case (18/24/35/50 mm)
Double-Headed Screwdriver
Package size: 88 x 27 x 27 cm
Package weight: 20.50 kg