Home > Lighting > Continual light > Spotlight / Fresnel lighting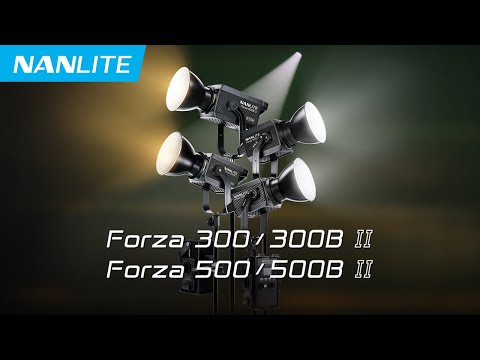 Availability: Available on stock
949.55 EUR excl VAT
710.99 EUR excl VAT
Promotion valid until: 07.01.2024
Free delivery to Econt office
for orders over 100 BGN
Nanlite Forza 300 II LED Daylight Spot Light
Key Features
For Studio & Film/TV Production

Output: 69,400 Lux at 1m (5600K)

5600K CCT, Green-Magenta Adjustment

AC or Optional Battery Power

CRI 96, TLCI 97

Onboard, DMX, App Control

11 Special Effects & OLED Screen

Active Cooling, Four Fan Modes

5/8" Receiver & Bowens Mount

Includes Reflector, Control Unit & Bag
Overview
Adopting the generous output and the compact form of the Forza 300 and 300B models, Nanlite has added key refinements in every regard to improve the performance of its second-generation Forza 300 II Daylight LED Light. Featuring a daylight-balanced color temperature of 5600K with green-magenta shift by +/- 80, this spotlight is a step up to the next level of quality for your video and photo productions. It will blend seamlessly into any ambient light situation, match other fixtures, or allow creative expression. The light comes with a 55° reflector, Bluetooth and 2.4 GHz for wireless control, DMX/RDM capability, and four fan modes for speed adjustments or absolute silence. A redesigned control unit is also included with the ability to efficiently run on AC power or optional V-mount batteries.
The Forza 300 II ships with an upgraded curved yoke that allows 360° rotation for a greater tilting range when used with optional large modifiers. A 5/8" receiver accepts industry-standard light stands and the light's Bowens mount is widely compatible with multiple light modifiers. The light is ready for worldwide use thanks to its 110 to 240 VAC power supply, but it can also run one or two optional side-mounted 14.8V V-mount batteries for situations when AC current is unavailable. A padded carry bag is supplied for protection during storage and transport.
Bright Output
With the included 55° reflector, the Forza 300 II outputs up to 69,400 lux at 1m (5600K). When equipped with the separately available FL-20G Fresnel with barndoors the light's output climbs to an impressive 197,000 lux.
Accurate Color & Special Effects
The Forza 300 II features a CRI of 96 and a TLCI of 97, meaning you can shoot with confidence knowing the color reproduction will be precise. Besides color accuracy, the light offers 11 built-in customizable effects that can be saved as presets using the free NANLINK app.
Green-Magenta Adjustment
In shooting situations where you need to match other light sources or achieve a specific look, it can be extremely helpful to adjust the green-to-magenta shift for color correction. With this Forza 300 II's feature you can tweak the color by +/- 80 to get there. The Forza 300 II is the first 300W spotlight with this ability, which is possible by its W(RG) LED source.
Four Fan Modes
The light offers four fan modes to enhance speed control according to your needs. The light head's fan is 9 dBA quieter than the previous generation and can be turned off when absolute silence is needed.
Smart, Full Speed, Low Speed & Off modes
15% maximum output when turned off
Control Unit & Battery Power
Optimized for use in the studio or on location, the Forza 300 II's included control unit is equipped with easy-to-access battery plates on the sides to accommodate up to two V-mount batteries. The Forza 300 II can run off either AC power or using one or two 14.8V V-mount batteries, so you can operate in any location regardless of power availability.
100% brightness using two separately available 14.8V V-mount batteries

45% brightness using only one separately available 14.8V V-mount battery

Fanless control unit gets 30% more battery life

Control unit's lock button prevents accidental setting changes

Includes longer 6m power cable and 3m head cable

A robust quick release clamp is included for mounting the control unit

The versatile clamp is compatible with round or square stands and trusses
Onboard, DMX & App Control
The Forza 300 II's control unit features a convenient OLED display and onboard buttons and knobs for precise and easy local control, but the light can also be controlled remotely.
You can fully control the light from your smartphone via Bluetooth with the free NANLINK app for iOS and Android
Built-in 2.4 GHz lets you use the separately available WS-RC-C2 handheld remote control or the WS-TB-1 transmitter box for larger setups
Locking DMX/RDM ports facilitate advanced control and enables the Forza 300 II to be quickly adopted into any DMX controlled environment
Multiple Mounting Possibilities
The light's upgraded curved rotating yoke has a one-sided lock, forward articulation, and allows 360° rotation to provide a greater tilting range with optional large modifiers. It also features an incorporated umbrella holder to expand your light-shaping options. Additionally, the light's Bowens mount capability makes the Forza 300 II compatible with a wide range of modifiers.
Compact, Powerful & Professional
Compact yet powerful, the Forza 300 II has a rectangular shape that can be stacked when setting up, breaking down, or storing. Its head measures 32.8x22.6x12.2 cm and weighs 2.86 kg. The light's control unit is now 37% smaller with dimensions of just 23.1x15.5x13.7 cm. The light's head and the control unit combined have a total weight of 5.63kg.
Additional Benefits & Refinements
Fully dimmable from 0 to 100%

USB port allows firmware updates and supplies power for optional wireless DMX receivers

Durable construction
Illumination
Light Only: 1m - 14270lux/1326fc; 3m - 1713lux/159fc; 5m - 696lux/65fc;

With Reflector: 1m - 69400lux/6447fc; 3m - 6321lux/587fc; 5m - 2340lux/217fc;

With FL-20G spot 10°: 1m - 197000lux/18301fc; 3m - 17430lux/1619fc; 5m - 6038lux/561fc;

With FL-20G flood 45°: 1m - 39160lux/3638fc; 3m - 4576lux/425fc; 5m - 1780lux/165fc;

With PJ-BM-19: 3m - 17460lux/1622fc; 5m - 5532lux/514fc; 7m - 2819lux/262fc;

With PJ-BM-36: 3m - 6063lux/563fc; 5m - 2055lux/191fc; 7m - 1024lux/95fc;
Specs
Rated Power: 350W

Input Voltage/Current: DC(Battery)14.4V-14.8V/12A, AC100-240V 50/60Hz

Beam Angle: 120°

CCT: 5600K(G/M±80)

CRI: 96; TLCI: 97;

TM-30 Rf Average 94; TM-30 Rg Average 102;

Dimming: 0-100%, by 1% increment

Control: On-board, 2.4G, Bluetooth, NANLINK APP, DMX/RDM

Effects: INT Loop, Flash, Pulse, Storm, TV, Paparazzi, Candle/Fire, Bad Bulb, Firework, Explosion and Welding
Certification: RoHS, NCC, FCC-ID, CE, PSE, KCC
Battery type
V-Lock/V-Mount бр.
Shape of the lighting fixture
Spot
Size
Light Fixture (without COB protective cap): 330×228×123mm;
Control Unit: 156×139×232mm;

Weight
2.88 kg
Warranty
24 months
Forza 300 II
Control Unit
DC Connection Cable 3m
AC Power Cable 6m
Reflector
COB Protective Cap
Quick Release Clamp
User Manual
DMX Reference Guide
Carrying bag
Package size: 54 x 37 x 37 cm
Package weight: 12.00 kg