Home > Cinema and Broadcast > Мonitors, recorders, viewfinders > Displays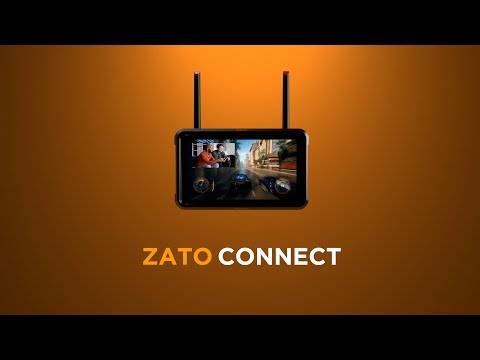 Availability: Available on stock
400.01 EUR excl VAT
297.77 EUR excl VAT
Promotion valid until: 31.12.2023
Free delivery to Econt office
for orders over 100 BGN
Atomos Zato Connect
SmallRig Cage for Atomos Ninja V

Code: SR-2209

Availability: Delivered by order

Price: 101.81 EUR excl VAT

Save 10.18 EUR excl VAT

Add
| | |
| --- | --- |
| Regular price: | 297.77 EUR excl VAT |
| With this combination you save: | 0.00 EUR excl VAT |
| Total price after discount: | 297.77 EUR excl VAT |
Now everyone can monitor, stream, and engage with social platforms and video conferencing
ZATO CONNECT has been designed to act as a compact, easy-to-use gateway to ATOMOS Cloud Studio. The device supports nearly all HDMI and USB UVC sources to livestream to Facebook Live, Twitch, YouTube, and other social sites, or can be used to create a webcam source for Microsoft Teams, Slack, Zoom, and other conferencing software.
The implementation of the AtomOS Lite software provides an intuitive and easy-to-use experience for new customers. The software includes all the essential tools, so it feels familiar for existing customers too. With a compact form factor, the SuperAtom IPS 5-inch (1000nit) display, Wi-Fi 5, USB-C, and Ethernet (via USB-C adapter) connectivity, as well as, NP-F battery or USB-C PD power options, ZATO CONNECT is an ideal companion for livestreaming in the field, the studio, or wherever else it travels.
Stream From Anywhere
Livestreaming and high-quality video conferencing is made easy and accessible with ZATO CONNECT. With support for HDMI and USB UVC cameras or video sources, the device is equipped with Wi-Fi 5, Gigabit Ethernet (via USB-C), and the ability to join cellular hotspots, everyone can stream to Facebook Live, Twitch, and YouTube, or create high-quality video for Microsoft Teams, Slack, and Zoom from anywhere.
Streaming Simplified
Anyone can setup a livestream (using ATOMOS Cloud Studio) and create high-value video content with the easy-to-use ZATO CONNECT. The 5-inch touchscreen display can be used to switch between sources and monitor the outgoing program stream. The device is compact enough to mount on a DSLR or mirrorless camera rig. It's equally at home next to a PC, Mac computer, or gaming console. Streaming has never been easier and ZATO CONNECT is the ideal, all-in-one solution.
Comprehensive I/O
While incredibly compact, the ZATO CONNECT lives up to its name. Featuring input and output ports for both HDMI and USB UVC, the device can transform the output from a wide array of video equipment into a livestream or webcam source. The 3.5mm audio jack can also be used to add microphone or line sources and the ZATO CONNECT can be used to mix them with embedded audio from HDMI or USB UVC.
Go Live or As Live!
Each livestream can be recorded as local H.264 backup to an SD card. With the ability to combine recorded sources with live content, it's possible to take one of these recordings and stream the content "as live" with ZATO CONNECT. This opens lots of creative opportunities and adds value to any stream or video presentation.
Get your Audio in the Mix
ZATO CONNECT includes an audio mixer, which can be used to adjust and combine audio signals from the 3.5mm analog input with the embedded audio from HDMI and USB UVC sources. Each channel can be adjusted independently and mixed down to a single stereo track for a livestream, recording, or video presentation.
An Essential Toolkit
Whether it's configuring streams, switching between sources, recording, playback, mixing audio, or adding effects, AtomOS Lite on the ZATO CONNECT makes it all a breeze. The software features a number of key tools including overlay effects, image zoom, and frame guides that will help add value to every stream or video conference.
Create an Identity
Whether through a livestream or virtual meeting, video has become an everyday part of all our lives. Today businesses, influencers, entrepreneurs, houses of worship, and educators all use video to establish an identity or reinforce a brand. Compelling content can make a difference and help emphasize branding, core messages, or even empower sponsorship opportunities. Applying graphic overlays to streams or watermarking recorded content is easy with ZATO CONNECT.
Livestream directly to Facebook Live, Twitch, YouTube, and more
Transform HDMI and mirrorless cameras with plug-and-play UVC webcam out for meetings and presentations in Microsoft Teams, Skype, Slack, Zoom, and many others
Connect almost any HDMI device up to 1080p60 or any USB webcam at up to 1080p30
Mix audio levels from HDMI camera input, USB webcam & external mic/line inputs
Add custom PNG overlay graphics to create lower thirds, logos, and watermarks
Monitor Assist features including zoom 2x, 9 grid and extensive frame guides
Stream, record, and output your program simultaneously, to get your content online without limitation
Playback pre-recorded content "as live" via network streaming, UVC webcam, HDMI, or all at the same time
5-inch full HD, SuperAtom (1000nit) display for great visibility in even the brightest of locations
Wi-Fi 5 and 1Gbe Ethernet (via included USB-C adapter) to share your work with the world
Perfect for:
Influencers
Vloggers
YouTubers
Education / Students
Corporate / Entrepreneurs
House of Worship
Conferences / Events
Weight
0.730 kg
Display size
7 Inch
HDMI Input
1
HDMI Output
1
SDI Input
1 - 12G-SDI
SDI Output
1 - 12G-SDI - Loop Output
1 - 12G-SDI - Monitor Output
Brightness
1000 nits
Warranty
24 months
Warranty terms
12 months for the display
2 x Wi-Fi Antennas with black caps, 5 x Antenna colored caps: White/Red/Yellow/ Black/Green, 2 x Antenna Top Caps, 2 x Antenna Mount Cover, 1 x USB-C to USB-C Cable, 1 x Antenna Storage Pouch, 1 x Quick Start Guide, 1 x Screen Cloth
Package size: 9 x 3 x 3 cm
Package weight: 0.10 kg