Home > Lenses > Lenses for mirrorless cameras > Lenses for Sony E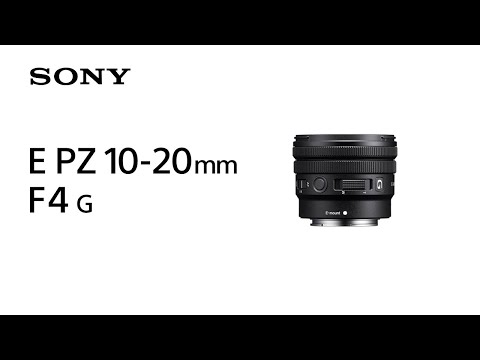 Availability: Available on stock
723.77 EUR excl VAT
595.97 EUR excl VAT
Promotion valid until: 31.07.2023
Free delivery to Econt office
for orders over 100 BGN
Sony E PZ 10-20mm f4.0 G
Compact, expressive 10-20 mm F4 power zoom
At just 178 grams this is the world's smallest, lightest ultra-wide-angle 10-20 mm (35mm full-frame equivalent: 15-30 mm) power zoom lens for APS-C cameras, offering class-leading mobility as well as outstanding handling and control. A constant F4 maximum aperture allows the use of practical shutter speeds even when shooting in low light.
Dynamic ultra-wide-angle images
A 10 mm focal length (35mm full-frame equivalent: 15 mm) at the wide end of the zoom range provides extremely wide angles of view. This versatile lens can deliver impressive, dynamic images utilizing unique perspectives that effectively separate the subject from the background, and emphasize distance or speed in movies.
Excellent G Lens resolution
Three aspherical elements effectively suppress field curvature and astigmatism that can be problematic in wide angle lenses, while an ED (Extra-low Dispersion) aspherical element contributes to outstanding image-wide resolution throughout the 10 to 20 mm zoom range (35mm full-frame equivalent: 15 to 30 mm).
Responsive new power zoom system
A new electronic power zoom system instantly converts zoom ring control to actual zoom operation so that the creator's intent is faithfully captured. Precise changes in angle of view can be easily produced and reproduced as needed, providing extra capability for visual expression.
Fine optics with minimal aberration
This remarkably compact lens includes an ED (Extra-low Dispersion) aspherical element and two ED glass elements that subdue chromatic aberration throughout the image area, achieving natural color and high contrast without color bleeding.
Outstanding close-up performance
The use of aspherical elements in an advanced optical design also ensures excellent close-up performance throughout the lens's zoom range. Minimum autofocus distance is 0.2 meters with a maximum magnification of 0.14x, while minimum manual focus distance is 0.13 ~ 0.17 meters with a maximum magnification of 0.18x.
Remote zoom control
In addition to the zoom controls built into the lens, zoom can be controlled from assignable buttons and controls on compatible camera bodies, accessory grips, or remote commanders for convenient, versatile operation in a variety of situations.
Lever-controlled power zoom expression
A zoom lever with continuously variable zoom speed makes it easy to execute super-slow constant-speed zooms and perform other operations that are difficult with manual zoom. Power zoom minimizes camera shake that can occur when operating a zoom ring so that even solo shooters can produce smooth, stable imagery.
Internal zoom and focus for great handling
Internal zoom and focus mechanisms ensure that the lens does not change in length when zooming or focusing. Shifts in the lens's center of gravity are minimal, making it a great choice for stable vlogging and gimbal-mounted movie shooting.
Designed for sophisticated movie imagery
Advanced lens technology reduces focus breathing as well as focus and axial shift when zooming so that high quality images can be easily captured. This lens also supports the breathing compensation function provided in compatible α series bodies, further reducing unwanted angle of view shifts during focusing for smooth, high-quality movie footage.
Extraordinary AF for stills and movies 
Two linear motors ensure fast, quiet, low vibration autofocus that can smoothly track subjects when shooting high frame rate movies and reliably follow fast-moving subjects when shooting stills continuously at high speed. Focus is especially critical when shooting 4K or 8K movies, and this lens handles it with ease.
Linear Response MF
Linear Response MF ensures that the focus ring responds directly and linearly to subtle control when focusing manually. Focus ring rotation translates directly to a corresponding change in focus, so control feels immediate and precise enough for rack focus effects when shooting movies.
Focus mode switch for fast AF/MF switching
A focus mode switch right on the lens makes it possible to switch between autofocus and manual focus on the fly, to adapt to changing shooting conditions.
Customizable focus hold button
A customizable focus hold button is provided for easy access and convenient control in just about any shooting situation. Other functions can be assigned to the focus hold button from the body menus.
Superb control in a compact lens
Within a remarkably compact design this lens features a focusing ring, zoom ring, and zoom lever that maximize control and versatility for movies as well as stills. The adjacent focus and zoom rings are stepped so they can be easily differentiated and operated by feel while viewing the monitor.[1] Focusing ring [2] Zoom ring [3] Zoom lever
Dust and moisture resistant design
A dust and moisture resistant design provides extra reliability for outdoor use in challenging conditions.
Sony E PZ 10-20mm f4.0 G Compatibility
E-mount APS-C cameras
| | |
| --- | --- |
| Angle of view | 109° – 70° (APS-C) |
| Autofocus | Yes |
| Crop factor | 1.5 |
| Filter thread | 62 mm |
| Length | 55.00 mm |
| Lens purpose | Photo lens |
| Lens size (Diamter x Length) | 69.8 x 55.0 mm (2-3/4 x 2-1/4 in.) mm |
| Lens type by focal length | Zoom lens, Wide angle |
| Max Format size | APS-C |
| Max. magnification | 0,14x (AF), 0,18x (MF) |
| Max.aperture | f/4 |
| Min. focusing distance | 0.020 m |
| Min.aperture | f/22 |
| Mount | Sony E |
| Number of aperture blades | 7 |
| Optical construction | 11 elements in 8 lens groups |
| Stabilization | No |
| System | Sony |
| Weight | 0.178 kg |
| Warranty | 24 months |
Lens Hood: ALC-SH169, Lens front cap: ALC-F62S, Lens rear cap: ALC-R1EM
Package size: 12 x 10 x 10 cm
Package weight: 0.35 kg
%
Sony Welcome to vlog!
More info
Welcome to vlog! Register your eligible camera on My Sony now and receive 200 BGN back on your next Sony lens or accessories purchases.
Buy an eligible camera by 31.03.2024 register it with My Sony between 01.04.2023 and 15.06.2024 and receive 3 voucher codes to claim a refund on the purchase of an eligible lens and/or accessory between 01.04.2023 and 30.06.2024.
%
+1 YEAR EXTENDED WARRANTY
More info
Register your product at My Sony to receive a 1 year extended warranty!
Register your Camera or Lens
Offer only available on selected new camera and lens models - please register your product to begin the process. Product registration and activation of your one year extended warranty must be completed within 60 days of product purchase. You will receive your unique extended warranty activation code and instructions on how to activate it by email, immediately after you have registered your product. If you have already purchased or otherwise received an extended warranty for this product, please note that you will not be eligible to add a further one year's warranty using this code. Proof of proper purchase (dealer invoice from participating countries as listed below) will need to be provided upon repair request. The extended warranty is not transferrable. Offer is valid for the purchase in all EU Member States excluding Luxemburg, Netherlands, Israel and Norway but including UK, Bosnia and Herzegovina, Montenegro, Serbia, Switzerland, and Turkey.