Home > Audio > Wireless systems - mics, lavaliers, accessories > Systems with lavalier microphones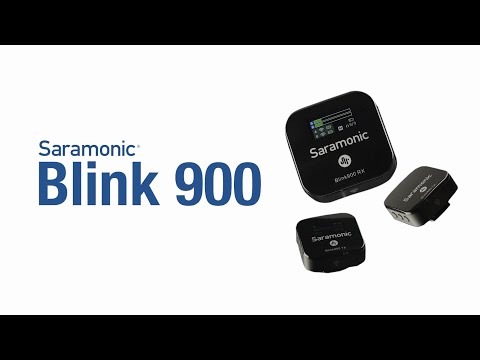 Availability: Expected delivery
Usualy ships within 25 days
Free delivery to Econt office
for orders over 100 BGN
Saramonic Blink 900 B2 2-Person Wireless Clip-On Mic System With Lavaliers & Dual Receiver
Availability notification

Please fill your E-mail address where you want to receive the availability notification for Saramonic Blink 900 B2 2-Person Wireless Clip-On Mic System With Lavaliers & Dual Receiver or your contact phone number.
Blink900 Ultra-compact 2.4GHz Dual-Channel Wireless Microphone System
  Blink900 is the top 2.4GHz dual channel wireless microphone system from Saramonic that has the potential to redefine the industry.
Extraordinary features about the Saramonic Blink900
Built with the new DSP technology, Blink900 delivers incredible crystal clear sound with 6ms ultra-low latency at distances of up to 200m, users now have the freedom for wider, more expansive shots without fear of dropouts.
The Blink900 transmitters are impressively compact and lightweight and deliver high-quality professional sound. They feature a built-in omnidirectional microphone with impressive sensitivity, giving you dynamic, crystal-clear sound quality that you can easily clip to a shirt, collar or slide into a pocket, yet versatile enough to set on a table or podium. The TX transmitters also operate as traditional bodypack transmitters with the included SR-DK3G professional omnidirectional lavalier microphones, providing an even more visually discreet miking solution.with dual-channel, it offers users more recording solutions, they can use single or dual transmitters and can choose mono or stereo mode to record each channel separately for ultimate flexibility in post-production. Ideal for Interviews and 2-person dialogue from broadcasters, podcasters, vloggers, live streamers, YouTube creators, and filmmakers.
The system comes with an impressive vivid color LCD screen which builts in with a light sensor, so the screen brightness can automatically react to the changes in the environment so the user always has an amazing clear viewing experience, or they can manually change the brightness between 1-10 levels.
Comes with multiple useful accessories make the system a one for all solution for different kinds of use case scenarios such as Vlogging, streaming, podcasting, interview, online teaching, and more. And with multiple types of cables in the package, Blink900 can connect to cameras, smartphones, tablets, and computers, etc.
Functions that make the audio recording experience even much better
Whole Day Battery life: designed with a rechargeable lithium-ion battery with up to 6 hours battery life for transmitter and receiver, and the charging box can provide 3 times full charging for 18 hours' use.
Flexible Gain Control: 0-6 level gain control lets you precisely tailor the output to your devices. Blink900 can help you to normalize the output of the captured signal with the "Auto Gain" function.
Mic or Line, Have it in Your Way: the Blink900 TX transmitters also allow users to transmit microphone-level or line-level signals wirelessly and provide plug-in power to microphones. This makes the system versatile to connect it to almost any audio source. The included high-end SR-DK3G lavalier or plug in a mini-shotgun microphone, or a headset microphone. Just about any 3.5mm microphone wired for standard TRS pin-out will work.
Super Easy to Get Started: Once set up, both the transmitters and the receiver will automatically get paired when you take them out of the charging case. Users can literally just turn it on and start recording.
Tiny but Might TX and RX: The Blink900 transmitters and receiver are impressively compact and lightweight, small enough to put in a camera bag, or backpack, so you can effortlessly bring it with you everywhere you go.

Recomended accessory - Blink 900 Pro HM - handheld battery grip

| | |
| --- | --- |
| Connector | 3.5mm stereo |
| Highest frequency | 20000 Hz |
| Lowest Frequency | 20 Hz |
| Max. SPL | 100 dB |
| Number of receiver Audio Channels | 2 |
| Operational range, up to | 200 m |
| Polar Pattern | Omnidirectional |
| Type microphone | Tie-clip |
| Warranty | 12 months |
Blink900 B2 Charges Case × 1
·Blink900 RX Receiver × 1
·Blink900 TX Transmitter × 2
·USB-C Charging Cable × 1
·DK3G Lavalier Microphone × 2
·Mic Clip for Lavalier Microphone × 2
·Foam Windscreen for LavalierMicrophone × 2
·Fur Windshield for Built-inMicrophone × 2
·3.5mm TRS to TRS Output Cablefor Cameras × 1
·3.5mm TRS to TRRS Output Cablefor Smartphones × 1
·3.5mm TRS to USB-C Audio Output Cable × 1
·3.5mm TRS to lightning Audio Output Cable × 1
Package size: 45 x 20 x 20 cm
Package weight: 0.00 kg