Home > Lighting > Continual light > LED Tubes - Strip light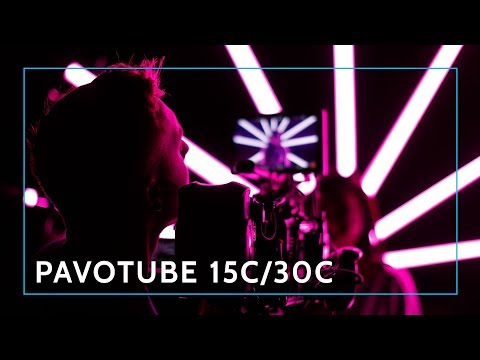 Availability: Available on stock
Free delivery to Econt office
for orders over 100 BGN
Nanlite PavoTube 15C LED Tube Light kit of 4
Key Features
4 x PavoTube 15C LED Lights
Color Temperature: 2700 to 6500K
CRI/TLCI: 98/95, 0 to 100% Dimming
RGB Mode w/ Hue and Saturation Control
Built-In Rechargeable Li-Ion Battery
2.2 Hours Run Time at Full Power
2.4 GHz Wireless Control
Pre-Programmed Special Effects
Can Connect Multiple Lights Together
Overview
PavoTube 15C RGBW LED Tube with Internal Battery from Nanlite is ideal for hiding unobtrusively in small areas on a set or for shooting in vehicles such as cars, boats, or planes. The light even has octagonal ends that allow placement on the floor or other surface at a specific angle.
Flexibility is key to the PavoTube's design. The light has color temperature that's variable from 2700 to 6500K to blend in seamlessly with ambient light conditions, match other fixtures, or express creative effects. It also has an RGB mode that enables its red, green, and blue LEDs to select from 360 colors with hue and saturation control that produces myriad color combinations. Light intensity is variable as well, from 0 to 100%. While you can make adjustments locally on the fixture, you can also do it wirelessly via an optional radio remote control. Another control feature is Master/Slave Mode which allows you to designate a single light as the "Master" and other attached PavoTubes as "Slaves" that mimic adjustments made on the Master. The PavoTube also has pre-programmed special effects such as cop car, candlelight, lightning storm, an SOS signal, and two different types of continuous flicker/flash to add realism to your set.
The kit contains four PavoTube 15C LED Lights complete with two AC adapters, four mounting clips, and a carrying bag. You can connect the lights together with the included sync cords.
Studio Quality Lighting
This versatile studio lighting fixture features 0-100% dimming, a maximum output of 1400 lumens, and adjustable color temperature from 2700 to 6500K, as well as a full spectrum RGB control and pre-programmed special lighting effects.
Full Creative Control
Achieve impressive results without adding plastic filters or gels. The PavoTube's easy-to-use dials and buttons enable you to dial temperature from warm to cold or hue and saturation in RGB mode.
Power Anywhere
Ideal for use in the studio or on location, PavoTube RGBW Tubes can run off either the included AC adapter or their internal lithium-ion batteries for up to 2.2 hours at full brightness when no mains power is available.
Configuration Possibilities
Simply connect multiple PavoTube RGBW Tubes together via a purpose-made sync cord to build and shape a powerful bank of lights with synchronized adjustments and effects.
Spesifications
LED Total Power: 16W
Color Temperature: 2700K-6500K
CRI: Average 95; TLCI: Average 95;
Dimming: Yes, 0 to 100% (Continuous)
Control: On-board controller, 2.4G
Special Effects: Cop Car, Flash, Storm, Candle Light
Internal battery: 2.2 hours at 100% brightness
Input Voltage/Current: DC15V/2A Max
Illumination
2700K: 1m - 307 lux / 29 fc; 2m - 81 lux / 8 fc; 3m - 32 lux / 3 fc; 4m - 16 lux / 1 fc
6500K: 1m - 352 lux / 33 fc; 2m - 94 lux / 9 fc; 3m - 39 lux / 4 fc; 4m - 20 lux / 2 fc
R: 1m - 130 lux / 12 fc; 2m - 32 lux / 3 fc; 3m - 14 lux / 1 fc; 4m - 8 lux / 1 fc
G: 1m - 385 lux / 36 fc; 2m - 101 lux / 9 fc; 3m - 43 lux / 4 fc; 4m - 24 lux / 2 fc
B: 1m - 79 lux / 7 fc; 2m - 20 lux / 2 fc; 3m - 9 lux / 1 fc; 4m - 5 lux / 0 fc
Certifications: CE, PSE, KC, ROHS, KUCAS
| | |
| --- | --- |
| Bi-color | Yes |
| RGB | Yes |
| Shape of the lighting fixture | Strip |
| Size | 4.8 x 76.96 cm |
| Weight | 0.86 kg |
| Warranty | 24 months |
4x PavoTube 15C,
2x AC adapter,
4x Clip,
3x Synhro cable,
2x DC Power Cord,
1xCarrying bag
Package size: 55 x 26 x 26 cm
Package weight: 7.35 kg